There are many ways to keep food or drink cold away from the house, but most of them involve a lot of ice and thick insulation. Dometic offers a different solution with its range of CFX3 electric coolers. Instead of playing with the ice, which will eventually melt, the CFX3 coolers plug into a 12-volt wall outlet or car outlet.
The convenience of an electric cooler that can maintain a temperature as low as minus 7 degrees Fahrenheit doesn't come cheap. This entry-level CFX3 35 model, which can hold 50 12-ounce cans, starts at nearly $ 980 when not on sale.
Having a portable fridge and freezer could really change the way you pack your bags for a trip or backyard parties. So I was curious about how this Dometic cooler worked in practice. Does it really work as it appears?
TL; DR
Advantages:
Can cool to very low temperature
Quiet operation
Car battery protection
The inconvenients:
The companion app is only slightly useful
Short power cables
Heavy, about 37 pounds empty
Expensive
Buy from Dometic.
What is an electric cooler?
The CFX3 35 uses a small VMSO3 compressor to refrigerate and freeze anything you might need for cooling. In case it's not clear why someone isn't just buying a mini-fridge instead of an electric cooler, it's for portability. This product has handles and a rigid frame so that it can be moved. It is much more versatile than a standard refrigerator.
The cooler must be continuously connected to the mains: either to AC or DC power sources, such as a household electrical outlet or a 12 volt outlet in a car. It is basically a portable refrigerator in the shape of a cooler. The compressor takes up space inside, but no more than what would have been used by the ice in a traditional cooler.
The CFX3 35 has a small liquid crystal display (LCD) on the outside to display basic settings and temperatures. Next to the external display is a USB-A port which can be used to charge other personal devices, such as a phone.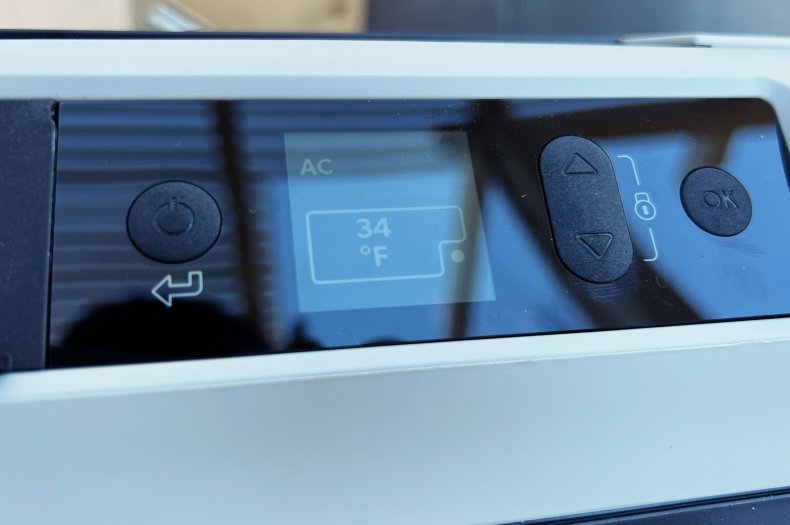 This cooler has Bluetooth and Wi-Fi connectivity, but the app experience is generally lacking. I had no problem connecting to the cooler via bluetooth, but it took longer to set up Wi-Fi. In the Dometic app you can set and change the temperature. You can also see a temperature history over an hour, a day, or a week. These are the two main functions of the companion app. All available parameters can be changed on the chiller itself.
For example, it has different levels of battery protection so that you won't drain your car's battery when you power the cooler on the road. You can select the aggressiveness of this protection with high, medium and low options directly from the small screen of the cooler.
How much can the Dometic CFX3 35 hold?
Dometic's entry-level CFX3 35 has a storage capacity of 36 liters. There is a large main section and a smaller, shallow shelf inside the cooler.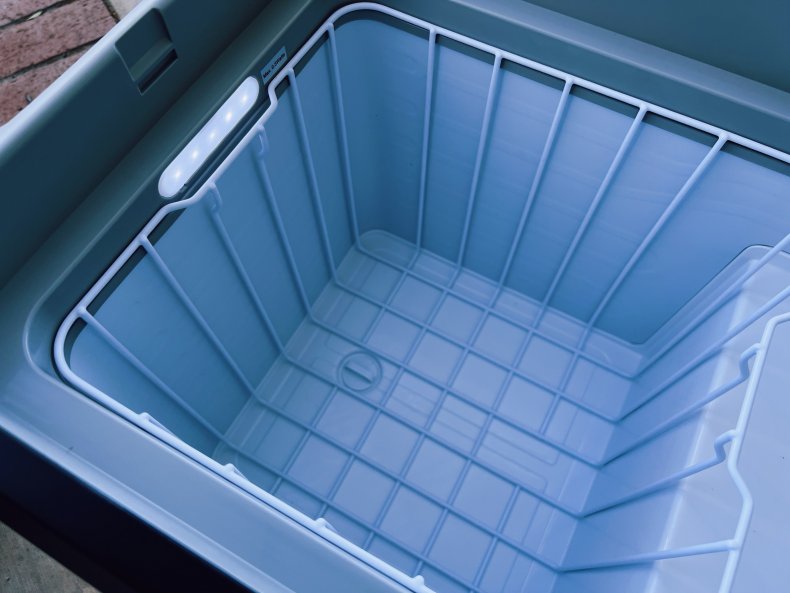 Took the CFX3 35 on a weekend in the back of an SUV and used it for fruit, drinks, and cold cuts. In terms of capacity relative to the overall footprint size, I guess this 36-liter model would work well for torque. My family of four managed to get it to work, but on a long road trip or spending more time away from home, it would be more convenient to have some extra storage space. A family of more than four will likely want to start with one of the other CFX3 models, which all have mostly the same specs but in larger sizes.
The CFX3 35 is a bit heavy. Empty, it weighs around 37 pounds. Due to its size and shape, it may need two people to move it or lift it onto a storage shelf, especially when it is in use and filled with drinks.
The CFX3 35 takes the heat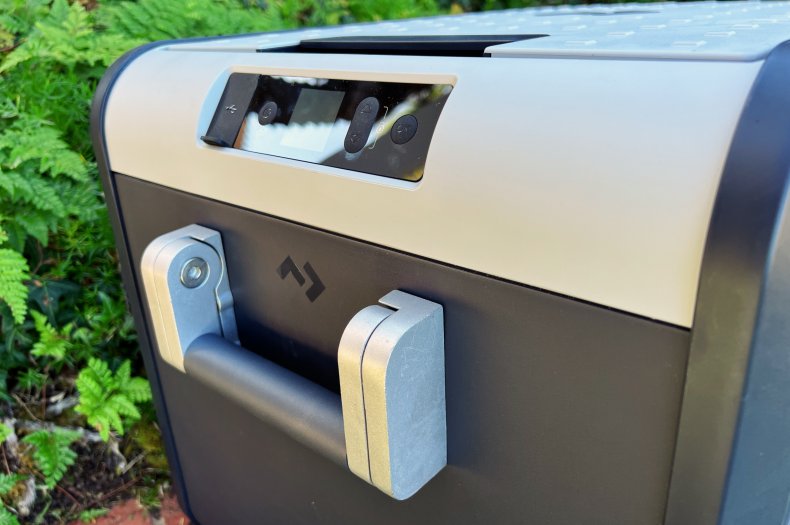 I really wanted to test the performance of the CFX3 35 in direct sunlight with a temperature over 80 degrees Fahrenheit. As the season headed into Southern California winter, I had to settle for temperatures that peaked in the mid-70s. I plugged in the cooler, set it to 38 degrees Fahrenheit, and put in a package of 6 cans which had remained at room temperature.
In less than an hour, the CFX3 35 had reached its target temperature and cooled the drinks to a cold level. There was no audible noise from the compressor after the chiller hit its target. After another hour, I unplugged the cooler and let it sit all evening to see how cold it would stay inside. After about three hours, the inside of the cooler was 55 degrees – the outside temperature was 60 degrees.
To go even further into the cold zone, the next morning I set the target temperature to zero degrees. (I removed the drinks and replaced them with an ice pack.) Took about 40 minutes to get there from its starting point of 54 degrees. There was a low hum, like any mini-fridge could as it made its way towards the goal. Once it reached zero degrees it became almost inaudible.
The cooler had no problem keeping its temperature at 0 degrees. The pack ice that I had inside stayed frozen all the time.
If extreme heat is a problem, Dometic sells an insulated blanket, which should help improve its efficiency. The app can also alert you if the temperature drops outside a 9 degree threshold from its target temperature.
I was a bit disappointed with the short power cables that came with the cooler. Getting an extension cord is pretty easy for a standard outlet. But you almost certainly want to keep the cooler in the trunk or bed of a truck, and reaching for a 12-volt power source might not be possible.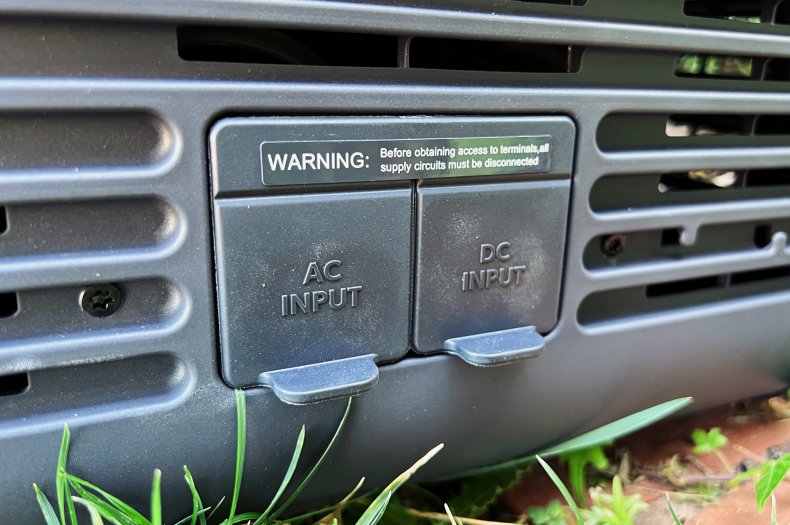 Should you buy the Dometic CFX3 35?
It is always difficult to recommend someone to spend close to $ 1,000, no matter what the product. In this case, an electric cooler is a fairly specific need. The CFX3 35 is not battery operated and most people don't need to be tethered to an electrical source instead of just using ice. Also, the app component is nothing fancy.
Still, if you can justify the need for an electric cooler by making constant trips or having lots of backyard parties, then this is probably the first product to consider. You may also occasionally need 36 liters of additional freezer space in the garage throughout the year. Despite its price and minor limitations, I have been continuously impressed with the performance and overall usefulness of the CFX3 35 in more situations than expected.
Buy from Dometic for $ 979.99.
Newsweek may earn a commission from the links on this page, but we only recommend products that we support. We participate in various affiliate marketing programs which means that we may receive commissions on products chosen by the editorial staff and purchased through our links to retailer sites.